Key Features of Industrial Ethernet Switch
SFC8000 Application
CCTV Surveillance, Intelligent Transport System (ITS), Plant Optical LAN, Sewage Treatment, Airport, port, Dam Management Systems etc.
SFC8000 Features
Network Redundancy Ring
Gigabit(1000Mbps) Bandwidth
Flexible Node Extendibility
System Reliability using Dual Power
Network Management
IP Management and S-Ring Operation Status Check – Scan Manager
Dual Network Ring Operation
SOLTECH SOLUTION
Industrial Ethernet Switch
Featured Products
Application
Integrated Control System

Railway Security Surveillance System
Key Feature
Industrial Ethernet Optical Switch supports Network Redundancy, Dual Power etc. allowing Non-stop operation for Plant system.
With its excellent performance in high operating temperature, it can also be applied in suburban CCTV system, Integrated Control System, Security Surveillance System.
Effective management such as IP configuration, S-ring status check etc. can be done using SCAN MANAGER of Soltech.
Related Products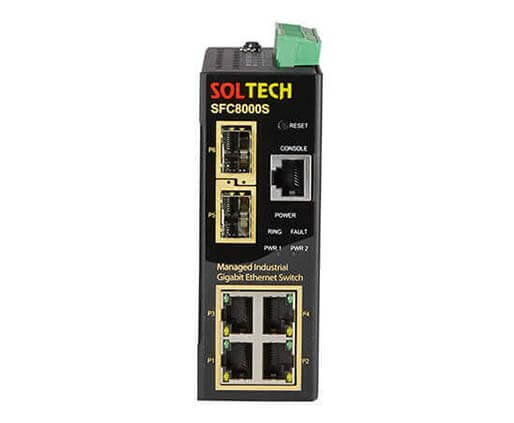 SFC8000S
1G L2 Industrial
1Gbps TP 4-Ports + 1G/2.5Gbps SFP 2-Slots, S-RING
SFC8000G
1G L2 Industrial
1Gbps TP 8-Ports + 1Gbps SFP 2-Slots + 1G/2.5Gbps SFP 2-Slots, S-RING (Standalone, Module type 1U, 4U option)
SFC8000HP
1G L2 Industrial
1Gbps PoE 8-Ports + 1G/2.5Gbps SFP 2-Slots, S-RING, PoE 240W
SFC8000
1G L2 Industrial
1Gbps TP 8-Ports + 1/2.5Gbps SFP 2-Slots, S-RING